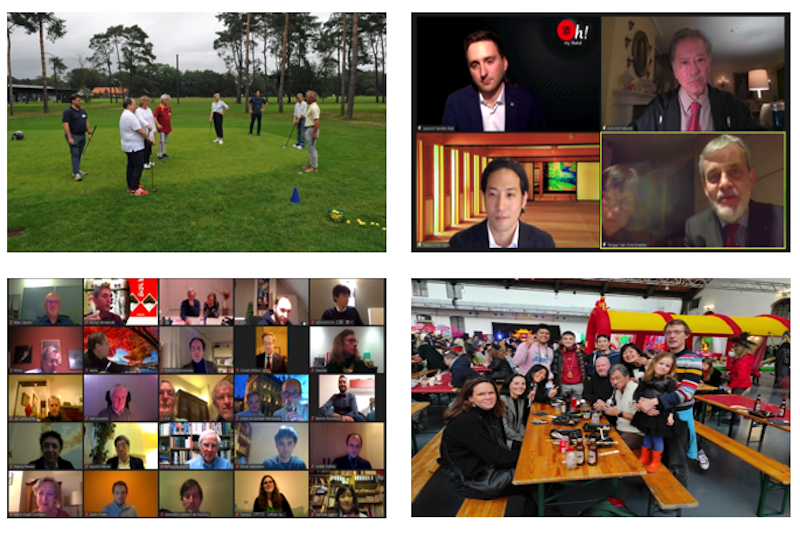 New Year Greetings
Dear Members,
All the best for 2022 - the year of the Tiger! Strength, creativity, and passion will accompany us this year!
Just before looking ahead into 2022, we firstly wish to express our gratitude for your continued support, especially during this unprecedented and continuing pandemic.
The BJA has pursued to foster the economic and cultural ties between Belgium and Japan and the friendship between our people on many different levels last year, as the years before. We could enjoy some on-site events together, but unfortunately, we did not have the opportunity of meeting physically as much as we would have hoped. We bridged this by significantly increasing electronic communication and information flow and sharing time together on-line - organizing virtual events such as webinars, video workshops and on-line meetings.
Some highlights were the memorable BJA New Year Celebration with on-line Sake Tasting and a few months later the meaningful and intimate commemoration of the Great East Japan Earthquake, together with HE Ambassador Shimokawa and other officials at the Japanese Garden in Hasselt. The return of the annual Golf Cup and Golf Initiation event was another important event as we could meet again with all after such a long time 'together apart'. This was heartwarming.
The committees extended an array of different digital sessions. The topics touched upon a myriad of information: cybersecurity, HR and tax related aspects of international remote working, EU Affairs, International Data Transfers, Friendship Committee Digital Cafés (in addition to a few physical events such as food tasting and hiking), YouTube sessions, ikebana explorations, and more. We could build upon a vast network of excellent speakers!
The Legal & Tax and Investment Committees, together with the Executive Committee, coordinated communication with the policy makers concerning the Single Permit and ICT Permit to further action in improving the system, in addition to other suggestions to improve business for all. We will keep you updated!
The BJA also launched a brand-new committee called 'Innovation, Partnerships & Trade (IPT)', and soon we will host an inaugural event.
The BJA Survey on Communication that we did showed that 98% of the respondents fully appreciate the frequency of our communication (new website, BJA Trade Flows & Cultural Newsletter and BJA Newsflashes). In the same vein, the content of our communications received high positive feedback. We welcome you this year again to take full advantage of sharing your news, events and job offers with us through these tools.
We are proud of the work delivered by our BJA Committees and Chairs and BJA Office. As a membership organization we thrive by bringing people together and serving them – physically or digitally.
We have many events already planned for 2022, the year a Princely Mission will head again to Japan nine years after the last one! As soon as the pandemic situation will ease, we will roll out a very varied activity calendar. One we had hoped to start with our annual New Year Cocktail in person, but unfortunately the pandemic prevented us once again. Let us hope this will be the last time ever.
We would like to take this opportunity to express our most sincere gratitude for your valuable contribution to the success of our activities and organization. We are looking forward to cooperating with you again in this new auspicious year!

Gilbert Declerck
BJA President
Tanguy Van Overstraeten
BJA Vice President & Executive Committee Chair
Anja Oto-Kellens
BJA Executive Director